Lapping Plates - Composite and Cast Iron Lapping Plate
Kemet Lapping Plates are crafted using a uniform combination of synthetic resins, metal particles, and key bonding/hardening agents. These plates are specifically designed to complement Kemet's advanced lapping technology and are perfectly compatible with Kemet Liquid Diamond.
Utilizing Kemet Lapping Plates offers a range of advantages. Firstly, these plates securely hold diamond particles, ensuring efficient removal of material and consistently achieving a desired surface finish for components. Their ductile properties act as a cushion for the diamond particles, safeguarding the workpiece against any potential damage. Moreover, Kemet Lapping Plates are available in various hardness values, catering to even the most delicate materials. This versatility allows for safe and effective lapping with diamond particles without the risk of impregnation. Additionally, these plates offer easy control, facilitating optimal flatness during the lapping process.
Whether you use lapping or polishing techniques, Kemet provides plates that can accommodate lapping machines of all brands, with plate diameters reaching up to 3000mm. The lapping plates are designed to dissipate heat and prevent the occurrence of laminar flow on the lapped surfaces, ensuring efficient cooling and consistent results. To maximize stability, Kemet Lapping Plates come supplied with a cast iron backing plate. This robust support enhances the overall performance and reliability of the lapping process. When precision flatness and superior surface finish are of utmost importance, Kemet Lapping Plates are highly recommended. Their exceptional quality and compatibility with Kemet Liquid Diamond make them an ideal choice for achieving outstanding results in applications requiring the highest level of accuracy and refinement.
Which Lapping Plate to use?
Iron Lapping Plates
Widely utilized for general-purpose stock removal and lapping operations.
Copper Lapping Plates
Employed for lapping softer materials, emphasizing fine lapping and polishing as the primary objectives.
Copper SP2 Lapping Plates
Suitable for lapping or polishing hard and medium hardness materials.
PR3 Lapping Plates
Utilized to achieve a highly reflective surface finish, ideal for pre-pad polishing to minimize roll-off.
XL Lapping Plates
Serve as a replacement for Lead/Tin plates, specifically used for mirror polishing purposes.
XP Lapping Plates
Enhance the production of flat and polished surfaces on various materials.
Tin Lapping Plates
Among the softest Kemet Plates, ideal for mirror polishing with fine grades of Kemet Liquid Diamond.
Ceramic Lapping Plates
One of the hardest Kemet Lapping Plates, commonly used for special applications that require a cleaner lapping process.
FP Plates
Serve as a substitute for the Kemet Lead/Tin Plate, offering efficient stock removal, high-quality surface finish, and
flatness when used with Kemet Diamond Slurry
.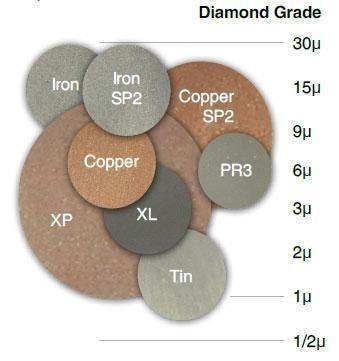 Lapping Plate Grooving
Customized grooved lapping plates can be provided to cater to specific applications. Cast Iron Hand Lapping plates and Dual Face Machine plates commonly feature a cross-hatched pattern. This pattern enhances stock removal rates by generating additional cutting edges within each groove. On the other hand, a Spiral groove pattern is primarily utilized for polishing parts requiring a superior surface finish and flatness. This pattern facilitates the removal of contaminants from the cutting surface, thus aiding in maintaining a flat lapping plate contact surface. Despite potentially smaller diamond particle sizes, the edges of the grooves ensure effective stock removal.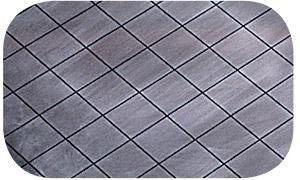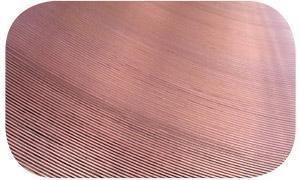 Kemet Annular Grooved Plates
Specifically engineered for the precise shoulder lapping of various components, including fuel pump gear faces and pressure relief valve caps. These plates are custom-made and require the specification of groove width and depth at the time of ordering.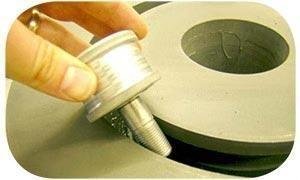 Lapping Plate Lift Off Disc System
Kemet Lapping Plates are also offered in the form of Lift-Off Discs. These discs come pre-mounted on an aluminum backing plate, which securely fits onto an aluminum drive plate using three pegs. The Lift-Off Discs can be effortlessly interchanged and are highly recommended for light-duty tasks that necessitate overall flatness and precise finishing.
Cast Iron Hand Lapping Plates
Hand Lapping Plates made of durable cast iron are ideal for laboratories, toolrooms, and maintenance workshops. They excel in achieving remarkable flatness for small quantities of parts. Crafted from premium, low porosity grey cast iron (Grade 300 to BS1452), these plates typically feature a square cross-hatched pattern for enhanced grip. Additionally, solid (unserrated) hand lapping plates are offered for delicate workpieces. When paired with abrasive grit, which is applied as a paste, these plates provide a consistently smooth matte finish on a diverse range of metallic and non-metallic materials. While three standard plate sizes are available, custom sizes can be requested.
Hand Lap Plate
Disc Diameter
2"
3"
4"
6"
8"
10"
12"
15"
18"
20"
24"
c/hatch Grooves
 -
-
-
361021
360835
360830
360198
361447
360707
362516
361029
Solid
361733
361797
361736
361738
361739
361997
360264
361192
360762
-
361193
We offer a variety of sizes from 3" to 24" diameter (Other sizes available upon request).
Soft Metal Alloy Hand Polishing Plates
Hand polishing plates made of a malleable metal alloy are designed to be used alongside diamond abrasives, in either paste or spray form, to create polished finishes on various components. The plate consists of a white metal composition conforming to BS3332/F, primarily composed of lead, tin, and antimony, with small amounts of other metals. This specific alloy serves as an excellent matrix for diamond particles due to its softness. To facilitate the process of preparing the lap plate for polishing, a compact charging block is included to apply the diamond abrasive onto the soft metal surface. Two plate sizes are currently offered for selection.
| Diameter | Finish | Code |
| --- | --- | --- |
| 6" (150mm) | Solid | 361019 |
| 12" (300mm) | Solid | 361046 |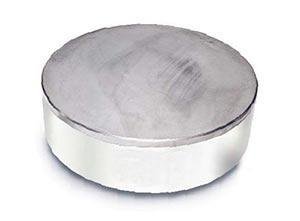 Cast Iron Lapping Plates
Our collection encompasses a diverse selection of cast iron lapping plates, catering to various lapping machines. These plates are obtainable in 15", 24", and 36" sizes, featuring either serrated or solid surfaces. Additionally, we can accommodate custom sizes upon request.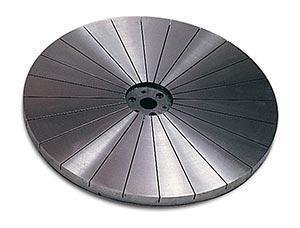 Our portable hand lapping kits follow the identical principles as machine lapping concerning abrasive grade, plate selection, and plate flatness.