Advanced Cutter for Minerals, Rocks and Geological Specimens
GEOCUT consists of a cast aluminium base on which the motor and the working space are provided in the form of two separate housing. A large window of Lexan and a sealed 12V lamp in the cutting chamber allow precise observation of the cutting process at an optimum degree of safety. A large feed table located in the cutter's generous work area can accommodate a variety of different clamping devices which need to be selected.
The feed table provides a long travel depth making the GEOCUT ideal for cutting long or deep samples in a single pass. X-Y Cross table is available as standard for parallel and serial cutting. Cooling water recirculating system is an optional part of GEOCUT. Cooling is effected by two water jets located on both sides of cutt-off wheel.
Advanced Cutter for Minerals, Rocks and Geological Specimens
Cutting capacity upto 100 mm in diameter
Uses diamond blade 250 / 300 mm
Linear Table Feed Cutting method
X-Y table bed with cutting cross feed
Various Clamping systems available
GEOCUT cutting machines have the highest safety standards. The interlocking safety device does not allow the motor to be started unless the hood is closed. The hood can not be opened before the cutting motor is stopped. The electronic brake system, which is a standard feature, brings the cutter to a quick full stop in seconds after it has been switched off.
Many petrographic cutting applications require the sectioning of a specimen from an irregular shaped sample. The small size or irregular sample shape can create positioning and clamping difficulties for the operator. To overcome these difficulties, Kemet offers a number of special clamping devices for use with GEOCUT petrographic cutter.
Model
GEOCUT
Chop Cutting, Z Axis
Manual
Table Feed Cutting, Y Axis
Manual
Parallel Cutting, X Axis
Manual
Max. Wheel Diameter, (mm)
Ø300
Max. Cutting Capacity (mm)
Ø110
(HxD) 70 x 200
Y Axis Travel, (mm)
220
X Axis Travel, (mm)
95
Z Axis Travel, (mm)
125
T-Slot table dimension, mm (WxD)
(395+95) x 275
T-Slot dimension, (mm)
12
Cutting Power kW (S1)
4
Wheel Speed, rpm
2850
Size, WxDxH, (cm)
90 x 94 x 66.5
Weight, (kgs)
250
Cooling Unit, (lt)
55
Accessories for Petrography
Quick Clamping Device for round petrographic specimens
GR 1811 for GEOCUT
Universal vise for large specimens, rocks,etc.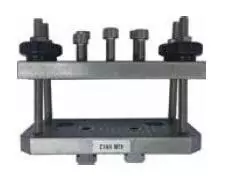 GR 1812 for GEOCUT
KKP 040 Vertical Clamping Device, with clamp.shoe
15 05 for GEOCUT
Recirculating coolant tank, stainless steel, 55 lt. capacity, with pump, level indicator, hoses etc.
GR 1394-00 for GEOCUT
Fixture for mounting specimens to glass slides for thin-sectioning
45 61 for GEOFIX
Hot Plate for Geofix
45 65
Cabinet for floor model
GR 0760 for GEOCUT