Centrifugal Barrel Finisher - Kemet 120
Centrifugal barrel finishing machines operate on the "Ferris Wheel" principle with a one-to-one ratio of barrel rotation to turret rotation. Each of the four barrels is loaded to roughly 50-80% full of media, parts, water, and compound. During operation, rotation of the turret creates a sliding force inside the barrel. This motion causes parts and media to contact each other in random or isotropic directions. The resulting finish is consistent across the entire surface of the part. Kemet provides complete sample processing and stocks all required media and supplies.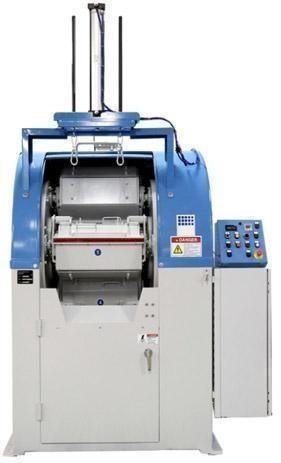 Before
After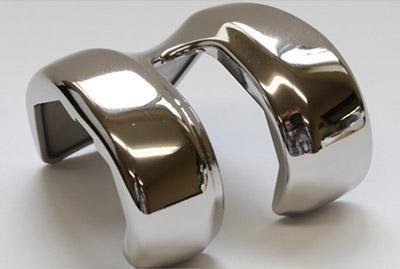 KEMET 120 High Energy, Centrifugal Barrel Finishing Machine
The KEMET 120 is a full sized industrial finishing machine. This CBF machine can be fully customized with a touchscreen control panel, parts separator, drain pan and infrared safety curtain. HZ High Energy series Centrifugal Barrel Finishing (CBF) systems from Mass Finishing are the fastest and most economical form of finishing machine available. They are the industry workhorse in polishing, deburring and deflashing parts. From jet engine blades in the aerospace industry to heart valves and medical implants, these tumbling machines are the versatile and money-saving solution for polishing and deburring.
Isotropic Finishing or ISO Finishing
In a matter of minutes this deburr tool can clean up metal, acrylic or rubber parts are finished in what could take hours or even days by hand. The finish achieved by these machines is isotropic, meaning parts are polished uniformly and evenly, something that cannot be achieved by hand. Variable speed control allow these tumbling machines to achieve whatever finish the operator desires, from a simple polish at low speed, to full scale deburring and edge radiusing.
Main Motor
10 HP Brand
Totally Enclosed
Three Phase, 60 hertz
Barrel Rotation Motor
2 HP
230/460 volt
3 phase, 60 hertz.
Machine Voltage
230/460 volt (Please specify upon order)
Total Capacity
4.7 cubic feet
Approximate Shipping Weight
2900 lbs. (Machine only)
Drive
Variable Frequency, Allen-Bradley, Powerflex 525
Overall Dimensions
66″L x 54″W x 76″H (machine only, No Cover Lift)
89"L x 40"W x 90" H (With Separator)
100" x 95" footprint with drain pan option
Machine Construction
Heavy duty steel
All welded construction
Reinforced, gusseted, and welded to maximum strength
Paint
Heavy duty powder coat
Scratch resistant
Barrel Construction
17.25"L x 10.25"W
Four hexagonal barrels with removable lids
Cam locks for secure operation
Barrel Liners
Hot poured polyurethane
¼" thick
Field replaceable
11 Divider slots, 12 individual chambers possible
Barrel Cover Lift-(Optional)
Air driven system for removing covers
Controlled via toggle switch on control panel
Control Panel
NEMA 12 enclosed panel
UL Certification Available
ABB push buttons and switches
PLC Option Available
0-100 Hour cycle timermounted on panel
Power jog of turret
Brake
Automatically stops the turret when a stop is activated or cycle is completed
Activated if door is opened
Safety Interlock
Prevents door from being opened during operation
Machine must be powered on in an idle mode to disengage lock
Can only be opened once cycle is finished