Ultrasonic Cleaning Fluids - Solutions For Ultrasonic Cleaners
Kemet offer the finest in biodegradable cleaning fluids. These are specialist formulated concentrated detergents available in neutral, alkaline and acid types. The detergents work in two ways: It reduces surface tension and intensifies ultrasonic cavitation & Dissolves and binds the dirt which has been loosened by the ultrasonics.
Disclaimer: Kemet recommend that any cleaning fluid should be tested on a sample of the component to be cleaned to ensure it does not damage the material and offer free trials to establish the optimum process.
Free consultations and trials to adapt formulations to specific requirements and optimise cleaning processes.
Environmentally aware process development to offer ecological solutions.
Physiochemical and physical wastewater treatment systems to comply with environmental legislation.
Compatible with Kemet range of ultrasonic cleaners.
For advice on which cleaning solution to use contact our cleaning experts.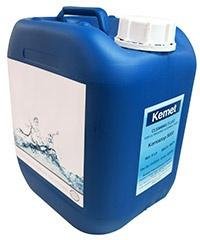 Type
Package Size
Product Code
Alkaline or Acid
PH approx
Dilution % Suggested
Temp °C Suggested
Inhibitor
Suggested Use
Comments
A9
5 Kg
360477
Light Alkaline
9.5
3-15%, Suggest 10%
40-60°C
Yes, short duration @ 1-3%
Nearly neutral to suit all materials
Temperature above 40°C can change the colour of non-ferrous materials
20 Kg
360478
210 Kg
360479
A
1 Litre
362194
Alkaline
13
15%
40-65°C
 
General Purpose and all Steels
Can lightly etch non-ferrous
5 Litre
362189
20 Litre
362196
O2
5 Kg
360920
Alkaline
13
5-25%, Suggest 10%
40-75°C
 
General purpose and all Steels (suitable for spray wash 1-5% dilution)
Low foam detergent. Most lightly etch some non-ferrous materials
20 Kg
360921
210 Kg
360922
H14
20 Kg
360475
Strong Alkaline
14
3-30%, Suggest 15%
60-85°C85°C optimum
 
Mould cleaning, carbon removal, Steels, Ceramics / Glass
Powerful detergent. Will etch or attack non-ferrous materials. Steel may discolour at high temperature
210 Kg
360476
N
1 Litre
360404
Neutral
7
15%
40-60°C
 
Neutral to suit all materials including plastics
Temperatures above 40°C can change the colour of materials, water marks possible
5 Litre
360955
20 Litre
360984
S8
5 Litre
362499
Very Light Alkaline
8
3-5%
50-75°C
Yes, short duration @ 1-3%
Virtually neutral to suit all metals
Highly concentrated. Good for removing wax based compounds at approx 70°C (Same as Galvex SU737)
25 Litre
361926
ACA
1 Kg
361470
Very Light Alkaline
10
0.5-3%
Ambient to 40°C
Yes, Main Purpose
Inhibitor in rinse to prevent corrosion
Stops corrosion on ferrous metals
25 Kg
361469
S3
5 Litre
361441
Very Mild Acid
2.5
10-15%
40-70°C
 
Tarnish, light corrosion of most materials. Brightens jewellery and coins
Protect ferrous materials after cleaning. Not suitable for some plated metals
25 Litre
361283
I
5 Kg
360480
Acid
1
5-10%, Start at 5%
25-60°CStart 25°C
 
Rust and oxide removal on all materials. Restore white ceramics
Will etch all materials and brighten some non-ferrous. Cold rinse, dry immediately. Protect ferrous
20 Kg
360481
210 Kg
360482
M99
20 Kg
360486
-
-
100%
(Flash Point 97°C) <75°C
Yes
Dewatering. Removes water moisture, provides corrosion protection
Dewatering fluid for moulds / parts going into storage. Immerse / drain over tank
C160
25 Litre
E05615
-
-
100%
(Flash Point 158°C) <120°C
 
Removing waxes, grease, polishes, lap compounds
High temp solvent. Use heated dip tanks. Ultrasonics can be rinsed with aqueous
Other Cleaning Solutions
CO-42 Cleaning solution
A cleaning and degreasing fluid with many of the performance characteristics of 1.1.1 Trichloroethane, but without the ozone depleting properties.

Effectiveness
CO-42 cuts through contamination such as lapping and polishing residue, grease, oils and general surface contamination.

Evaporation
CO-42 is relatively quick drying, but not so fast as to leave dried staining on the surfaces of products. The controlled wetting and evaporation properties of CO-42 make it extremely versatile and efficient.

Versatility
Able to act as an extremely efficient cleaning agent for all metals, most plastics, ceramics, glass and similar materials.
| Size | Container | Code |
| --- | --- | --- |
| 450ml | Trigger Spray | 302103 |
| 5 Litres | Metal | 302102 |
| 25 Litres | Metal | 302101 |
| 200 Litres | Metal | 302105 |
C70 Cleaning solution
Kemet C70 is a solvent cleaning and degreasing fluid with all of the characteristics needed to remove grease, oil and residues from parts. It is supplied in a pressurised container complete with detachable extended spray tube for reaching into the most difficult areas.
Highly efficient degreasing solvent
Very fast evaporation rate
No staining
Instantly removes lapping and polishing residue
Cost effective
Versatile and can be used on all metals, ceramics etc. (Always test small area first)
Contains no ozone depleting substances
| Size | Container | Code |
| --- | --- | --- |
| 500ml | Aerosol | 302114 |
| 500ml | Aerosols (Pk 12) | 302115 |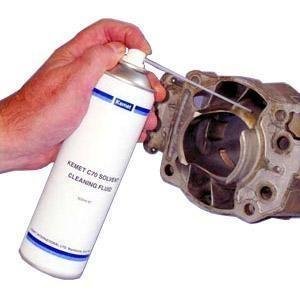 Cleaning Test Centre
At our dedicated cleaning test centre in Maidstone, we have the latest demonstration and test facilities to develop cleaning processes tailor made to the customer's requirements. We are able to undertake free of charge cleaning trials using a large variety of ultrasonic cleaners.
For further details on our ultrasonic cleaning trials or mould cleaning trials, please contact our Ultrasonic Cleaning Manager